Imagine you're excited to binge all of the Disney classics.
You plop down on your sofa.
But wait…
Your Disney Plus is suddenly not working on your Vizio TV!
Don't let this hiccup take your comfort away.
Let me help you…
Continue reading to know:
How to know when the Disney Plus server is down.
5 quick ways to fix Disney Plus not working on your Vizio TV.
A detailed guide on resetting your Vizio TV to make Disney Plus work.
And so much more…
Why isn't my Disney Plus working on my Vizio TV?
Disney Plus isn't working on your Vizio TV because of a poor network connection. It can also be caused by hardware or software issues on your device. Aside from that, it's also possible that the Disney Plus server crashed and won't load.
---
Disney Plus not working on Vizio TV: 5 fixes
---
#1: See if the Disney Plus servers are down
When your Disney Plus app isn't working, sometimes it has nothing to do with your end.
Why's that?
From time to time, servers go down.
And don't worry, it's not your fault.
Website servers go down for several reasons. It can be because the server is:
Overloading.
Overworking.
Getting an update.
Experiencing a malicious attack.
Struggling because of a weak host.
When the Disney Plus server is down, no one can get into and use the app.
So how would you know if that's what you're dealing with?
First, you can try to log on to the app on a different device.
So if it's not working on your Vizio TV, open the Disney Plus app on your PC or phone.
Then, find out if the problem is with the server altogether or only with your TV.
Aside from that, you can also check Disney Plus' social media.
Look for recent announcements about the server.
And hopefully, they'll also post when the servers are back on.
Pro tip: Some websites show information about servers currently down. Check out Downdetector. It includes some of the most popular apps and sites, including Disney Plus.
#2: Check your internet connection
So your Disney Plus is having a hard time loading…
Did you check how good is your internet connection at the moment?
A weak or poor network can be why Disney Plus is not working on your Vizio TV.
When that happens, you can restart your Wi-Fi to refresh its connection.
Here's how:
Unplug your router and modem.
Wait for 1 to 2 minutes.
First, plug the modem and power it up.
Wait for another 30 seconds.
Then, plug the router back in.
Once your Wi-Fi resets, you can check if the speed has improved.
So perform a quick speed test. It will show your internet's ping, upload, and download speeds.
This can help you see if your internet is powerful enough to run Disney Plus on your Vizio TV.
Note: When it comes to streaming videos, what matters is fast download speed.
The ideal range for a smooth streaming experience is around 30 to 50 Mbps. Anything slower will result in laggy and poor-quality videos.
Reading tip: 5 Ways To Connect Vizio TV To WiFi Without A Remote
#3: Power cycle your TV
If there seems to be nothing wrong with your Disney Plus app…
The issue may concern your Vizio TV.
For that, 1 of the first things that you can try is to power cycle your device.
Power cycling your Vizio TV will give it the chance to restart its processes.
It can also help reboot some of the device's electrical components.
Just like a fresh start.
So to power cycle your Vizio TV, follow these steps:
Unplug your Vizio TV.
Find the power button on the TV
Then, press and hold the power button for 5 to 10 seconds.
Wait for 1 minute.
Plug your Vizio TV and turn it back on.
You can also perform a power cycle using the on-screen menu and your remote.
Go to the System tab.
Choose the Reset and Admin menu.
Select Soft Power Cycle.
Editor's pick: 5 Ways To Fix A Vizio TV That Won't Turn On
#4: Update your Vizio TV's firmware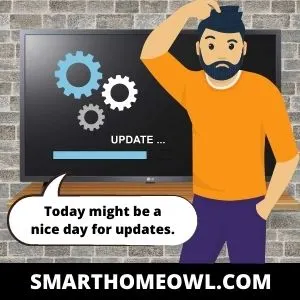 When your Vizio TV is unable to play Disney Plus, it can be caused by a firmware issue.
If your Vizio TV isn't up to date, it may have trouble performing even the simplest processes.
However, don't worry.
Much like any other device, updating your Vizio TV is fairly easy.
All you need to do is:
Press the Home key on your remote.
Go to System Menu.
Select Check for Updates.
Follow the prompt to start updating your TV's firmware.
Once the update is finished, give your device some time to install all system changes.
Patiently wait for 3 to 5 minutes.
Then, you can try to open the Disney Plus app on your Vizio TV again.
Read also: Disney Plus Not Working On Smart TV: 9 Quick Fixes
#5: Reset your Vizio TV
If you're still not having any luck, the last fix that you can do is to completely reset your device.
Note: Factory resetting your Vizio TV will delete all of its data.
The hope is that factory resetting would also get rid of any software or firmware issues on your Vizio TV.
With this step, your device should work as if it's brand new.
So, how do you factory reset your Vizio TV?
Well, there are 2 methods. 1 uses the remote, and the other doesn't.
Here's how:
Method 1: With Remote
Press the Menu button on your remote.
Go to the System tab.
Select the Reset and Admin menu.
Choose to Rest TV to Factory Defaults.
If the prompt asks for a code, use the default 0000.
Proceed with the full reset.
Method 2: Without Remote
Locate the power button on your TV.
Turn the TV on.
Press and hold the Source and Volume down keys.
Wait for a message to appear on the screen.
Follow the prompt and press and hold the input button to initiate the reset.
Once your Vizio TV reverts to its factory settings, you need to set it back up again.
So, re-download the Disney Plus app.
Then, check if you can access and use it this time around.
If not, it's best to contact Vizio customer support.
You can call (855) 472-8817 or email them at CustomerSupport@VIZIO.com.
Their team can provide more troubleshooting tips and assistance.
Bonus: Make sure you're using a compatible device
There are some Vizio TV models where Disney Plus is simply not compatible.
What are those?
These are the Vizio TV models that were released earlier than 2016.
On the other hand, newer Vizio TVs are Smartcast-enabled.
What's that?
It's an integrated program that makes it easier to use and download apps. And that includes Disney Plus.
But, you don't have to worry.
There's a way to use Disney Plus even if you have an older Vizio device.
How?
All you need is a third-party casting device like Chromecast.
This device allows you to cast the screen of your phone or tablet into your TV.
Do you have the Disney Plus app on your phone?
Then, you can use Chromecast to stream your phone's display to a larger screen.
This makes the illusion that your old Vizio TV can use the Disney Plus app.