USB ports offer extra connectivity options to your TV.
But here's the thing:
You can't use them to your advantage…
If you can't locate them in the first place.
And so, allow me to show you that finding them is just a piece of cake.
Continue reading to learn:
3 must-know functions of a TV's USB port.
3 easy steps to locate the USB port on a Samsung TV.
Whether you can find a USB port on your TV in the first place.
And this is just the beginning…
---
How to find the USB port on a Samsung TV – 3 steps
---
#1: Check your TV
A Samsung TV's USB ports can be easy to miss. After all, USB ports are tiny.
So, here are common locations where you could find your USB ports:
Back of your TV panel.
Either side of the latter.
Pro tip: Your TV has other ports, such as HDMI and ethernet. And they're often bunched together in the exact location as your USB port. So, finding them can help you locate the USB port as well.
Now, let me briefly describe the standard ports on your TV.
HDMI port: It's the widest among the ports. And it's a rectangle with incomplete edges.
USB port: A rectangle with a chip protruding in the middle.
Ethernet port: It's like a square box with a "Network" label.
But, if you're still having trouble looking for them…
Proceed to the following step.
#2: Read your TV manual
Your TV manual is like a tome of knowledge.
It holds valuable information on everything you need to know about your Samsung TV.
I'm talking about:
Warranty.
Device specifications.
Samsung's contact details.
Instructional guides on taking care of your TV.
And, of course, including where to find the USB ports on your TV.
With that said, read through your TV manual and search for their location.
"I don't have access to my manual."
Then you can do the following step instead.
#3: Find your Samsung TV's manual online
Follow these steps to access your TV manual on the Internet:
Open your browser.
Go to this website.
Type your TV model on the search bar.
Download your TV manual.
Pro tip: The TV model looks like a code with many numbers and capital letters. That said, you can find it at the back of your TV. For instance, a 65-inch 2020 QLED TV has the model number QN65Q90TAFXZA.
Now, if you still can't find any information about your Samsung TV's USB ports…
Reading the following section could help you.
You might also be interested: Is Samsung TV a Smart TV? 5 Things You Need To Know
---
Do all Samsung TVs have USB ports?
---
Not all Samsung TVs have USB ports. Only TVs released starting in 2005 have them. However, depending on the model, the number of available ports could be either 1 or 2.
It may sound surprising, but that amount may not be enough for some people…
And if that includes you, I'm sure you'd want to add more USB ports.
But even if you don't, you could benefit from having extra ones.
That's why it's easy to think about buying a USB hub to gain additional USB ports.
But, here's the thing:
Samsung TV's USB ports may support devices, such as:
But they only work if they're connected directly to the port.
So, if you use a "middleman" like the USB hub…
Your Samsung TV won't recognize the devices you've linked.
Basically, you can't hack your way to having extra ports using that method.
But the great news is:
Samsung offers the One Connect box as the working alternative to the USB hub.
In fact, it gives you 2 more USB ports. And both are easily accessible compared to the 1s found on a TV.
Plus, it also provides you with the following:
HDMI DVI.
HDMI STB.
HDMI TV-ARC.
Standard HDMI.
Coaxial cable port.
So, you can also connect your Samsung TV to devices like:
And that's so much value coming from just a simple box.
With that said, all you have to do is visit SamsungParts to have a One Connect box:
Note: Check if your TV model is compatible with the One Connect box through your manual. And if you find out that you can use it on your TV…
You could watch this video to help you set up your One Connect box:
Suggested reading: 5 Ways To Tell If Your Samsung TV Has Bluetooth
---
What are USB ports used for?
---
USB ports are used for accessing and playing multimedia files, such as music and videos. Moreover, they're utilized for connecting peripherals like mice and speakers to your TV. Additionally, users can manually install firmware updates through USB ports.
Now, allow me to elaborate on the most common functions of USB ports. Starting with…
#1: Playing media files
Want to watch that new movie that just got released on Netflix?

Or maybe play some songs on your TV?
No problem!
One of the things that enable your Samsung TV to do that is the USB port.
With that said…
Follow these 7 simple steps to play music and videos on your Samsung TV:
Transfer music and videos to a USB storage device.
Turn on your TV.
Insert the device into a USB port.
Press the Source button on your remote.
Choose USB Device USB.
Select the music or video that you want to play.
Press Enter.
However, if your storage device contains more than 4000 files…
Some files and folders won't show up on the TV screen.
Pro tip: Use a separate USB storage device to hold your media files.
Moreover, even if your TV lets you play music and movies …
They must be compatible with your TV.
So, here are some of Samsung TV's supported file formats:
Compatible audio:
MP3.
MIDI.
M4A.
MPA.
WMA.
FLAC.
Compatible video:
AVI.
MP4.
MOV.
3GP.
MPG.
MKV.
That said, ensure your audio and video files are of these types. Doing so will allow you to stream them on your Samsung TV.
Editor's pick: Can You Play MKV Files On Samsung TV?
#2: Using peripheral devices
"What's a peripheral device?"
Basically, they're just optional tools you can connect to your TV. So that you improve your TV experience.
Here are some examples of peripheral devices:
As you can see, you don't need them per se. That's because you can still use your TV without them.
Like you could watch movies or TV shows.
Although their benefits are so great, they could make you feel like you need them.
For example, wireless mice and keyboards help you navigate your TV. And you'll feel like you're just using a big computer.
That's why I recommend you get them anyway, so you get the most out of your TV.
And all you need to do is:
Connect these peripheral devices through your TV's USB port.
#3: Updating TV firmware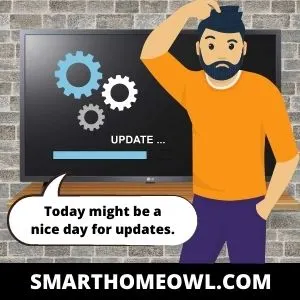 Your TV needs firmware updates from time to time, so it can gain extra features and run more smoothly.
But, you also update your TV to try to resolve issues such as:
Now, you can usually install software updates directly on your Samsung TV. And all you need is Internet access.
But, there are cases where problems like your Samsung TV won't stay connected to WiFi. Or it won't connect to the Internet at all.
See how it's like a paradox?
You can't connect to the Internet because of outdated firmware. But you need the Internet to update your firmware.
With that said, it's in situations like this 1 that your USB port shines best.
Why?
It allows you to manually update your TV's software. And that's even without an Internet connection.
"How do I manually update my Samsung TV's firmware?"
Step 1: Download your Samsung TV's software updates
Note: I recommend you do this step on a computer.
Go to the Samsung Download Center.
Now, you can manually search for your TV.
Press TVs and Home Theaters.
Search for your TV.
Or you could do these steps instead:
Enter your TV model number on the search bar.
Click Enter.
Note: Your TV model number's found on the back of your TV.
Now, you should be on your TV model's Support page:
Look at the Downloads section.
Search for the latest firmware file.
Press Download next to the software version.
Step 2: Locate the file on your computer
It could be in your Downloads folder.
Step 3: Unzip the file
Right-click the file.
Click Extract.
Wait for the unzipping process to finish.
Step 4: Copy or Move the unzipped folder to a USB flash drive
Note: Don't put the folder in another folder inside your USB drive. If you do, your TV won't recognize it. And you can't update your software.
Step 5: Plug the USB device into your TV's USB port
Step 6: Update your Samsung TV's firmware
Go to Settings.
Press Support.
Click Software Update.
Choose Update Now.
Confirm Yes.
Step 7: Follow the remaining onscreen instructions.
The process could take a few minutes.
Note: Don't turn off your TV until the update is complete. Doing so will stop the process.