YouTube has all the genres you may want to watch on a streaming platform.
And it lets you stream millions of videos for free.
So, when this app stops working on your Insignia Fire TV…
It's hard not to be disappointed.
But don't worry. I got your back.
Continue reading to find out:
How to check if the app's servers are currently down.
The most common reasons YouTube isn't working on your Insignia Fire TV.
9 quick solutions you can try to make YouTube work on your Insignia Fire TV again.
And this is just the beginning…
Why is YouTube not working on my Insignia Fire TV?
YouTube isn't working on your Insignia Fire TV because the app's servers are down. This problem also happens if your Internet connection is too slow. Moreover, having outdated TV software prevents the YouTube app from working.
---
Insignia Fire TV YouTube not working: 9 fixes
---
#1: Ensure that YouTube isn't down
YouTube is 1 of the most reliable apps on your Insignia TV.
But its servers aren't totally immune to downtime or crashes.
When this happens…
YouTube stops playing on all platforms, including:
Phones.
Smart TVs.
Computers.
And you won't be able to use the app until the developers fix it.
Now, unlike other major streaming platforms such as Netflix…
YouTube doesn't have a webpage dedicated to showing its servers' status.
But luckily…
These 3rd-party sites allow you to check if YouTube is down or not:
If the app's servers are confirmed to be down…
Then, all you need to do is wait until they're up and running again.
However, if the websites above show that Youtube isn't experiencing any problems…
Proceed to the fixes below. Because you can stop this problem yourself.
#2: Power cycle your TV
Insignia TVs are known to be high-quality.
But like all tech devices, they also have their limits.
See, your device can start malfunctioning if it's overwhelmed with its tasks.
Or if there are glitches or bugs in its system.
Worst case scenario, your Insignia TV might not even turn ON.
But most of the time…
Your TV simply fails to launch some of its apps properly when it's glitching.
Luckily though…
It's pretty easy to give your TV the rest it deserves.
Just follow these steps to…
Power cycle your Insignia TV:
Unplug your TV from the outlet.
Wait for at least 45 seconds.
Press and hold your TV's power button.
Let go after 15 seconds.
Plug your TV into its power source again.
Turn it ON.
When your TV boots up…
Head to the YouTube app and see if it's now working.
Editor's pick: 4 Reasons Why Your Smart TV Freezes On YouTube + Fixes
#3: Reset your Internet connection
For this fix…
You should check if your WiFi is fast enough to support the app.
However, before I teach you how to do that, review this table to know…
How fast your WiFi needs to be to use YouTube:
| | |
| --- | --- |
| Video Resolution | Recommended Internet speed |
| 4K | 20 Mbps |
| HD 1080p | 5 Mbps |
| HD 720p | 2.5 Mbps |
| SD 480p | 1.1 Mbps |
| SD 360p | 0.7 Mbps |
As you can see, to play HD videos on your Insignia TV…
Your Internet connection needs a download speed of 3-5 Mbps.
That said, it's time to…
Check how fast your Internet is:
Prepare a mobile device or PC.
Connect it to the WiFi your TV is using.
Launch your gadget's browser.
Head to speedtest.net.
Click the GO button on your screen.
Wait for the results to appear.
Check your WiFi's download speed.
If your Internet is faster than 5 Mbps…
Skip to the next solution. Because your connection isn't causing this problem.
However, if your results show otherwise…
Here are my go-to tips for making your Internet faster in just minutes:
Tip 1: Power cycle your router
Unplug it for 1 minute, then reconnect it to its power source.
Tip 2: Disconnect other devices from your network
Changing your WiFi's password is the quickest way to do this.
Tip 3: Put your router in the center of your house / Move closer to the router
This way, most of your devices can get a much better connection.
Bonus tip: Use an ethernet cable
Direct connections are always much more reliable than wireless.
So, if you want to give an extra boost to your big screen's Internet speed…
Connect your TV and router using an ethernet cable.
If you want to know how much this direct connection can improve your TV's network…
Watch this video:
#4: Update the app
YouTube has over 2 billion active monthly users.
And being so popular…
Developers constantly provide updates for the app.
This way, everyone on the platform can get the best experience possible.
Now, updates allow your YouTube app to:
Avoid glitches and bugs.
Use newly added features.
Work efficiently with your TV.
So, if your app is outdated…
It may freeze, slow down, or even stop working.
But don't worry. It only takes several minutes to…
Update the YouTube app on your Insignia TV:
Head to your device's home screen.
Tap the Apps option at the top of your TV.
Hover over the YouTube app's tile.
Click the Menu button (≡) on your TV remote.
Choose More Info.
Tap the Update option.
Now, simply wait for the process to finish.
And check if your YouTube is now up and running.
#5: Force stop the YouTube app
Even when you exit this application on your TV…
Most of the time, Youtube continues running in the background.
Now, this usually doesn't cause any problems.
But in rare cases…
An app's background tasks can negatively affect your TV's overall system.
So, to stop your YouTube's ongoing processes once and for all…
Follow these steps to force stop your app:
Click the Home button on your remote.
Select the Settings heading at the top of your screen.
Choose Applications.
Tap Manage Installed Applications.
Select your YouTube app from the list.
Choose Force Stop.
And before you try using your app once again, you should also…
#6: Clear YouTube's cache and data
These 2 are crucial components in making your app run faster and smoother.
But since they take up quite a bit of space on your TV's storage…
Clearing them every now and then is a good idea.
That said…
Here's how you can clear YouTube's cache and data:
Head to your TV's home screen.
Go to Settings.
Select the Applications tile.
Click Manage Installed Applications.
Choose YouTube.
Scroll down and select Clear data.
From the same list, tap Clear cache.
After doing so, try relaunching your YouTube app.
And if it's still not working…
#7: Update your Insignia TV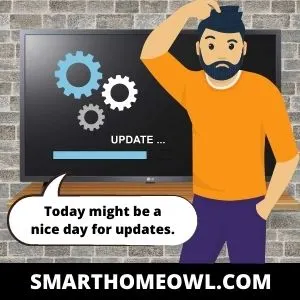 As mentioned earlier…
Your YouTube app constantly gets updates from its developers.
So, to allow your device to continue supporting the latest version of YouTube, you should…
Update your Insignia TV's system:
Tap the Home button on your remote.
Scroll to the right to hover over Settings (gear icon).
Choose My Fire TV.
Click About.
Scroll down and select Check for Updates.
Tap Install Update.
Note: Don't turn OFF or unplug your TV while it's updating.
You might also want to know: Where Are Insignia TVs Made? 7 Things You Need To Know
#8: Reinstall the app
Still having trouble making YouTube work?
If so, the current app version on your TV may have some corrupted files.
And they're stopping YouTube from working correctly.
But don't worry. To quickly fix this problem, all you need to do is…
Reinstall YouTube:
Delete the app
Go to your device's home screen.
Select Settings at the top of your TV.
Tap the Down button on your remote.
Click Applications.
Choose Manage Installed Applications.
Tap YouTube from the list of your TV apps.
Select Uninstall.
Confirm the action.
Once you've successfully deleted YouTube, restart your TV.
Then, proceed to…
Reinstall the app
Grab your Insignia TV remote.
Head to your device's home screen.
Select the Search icon at the top-left corner of your TV.
Type "YouTube" using the virtual keyboard on your screen.
Select the first suggested keyword.
Click the YouTube tile under the Apps & Games heading.
Tap the middle button on your remote to install the app.
After doing this process, open YouTube again.
And check if your app is now working like usual.
#9: Factory reset
If none of the fixes above were able to fix the problem…
It's time to factory reset your TV.
This process reverts your device to its default settings.
Warning: A factory reset will log you out of your apps. And it'll also delete your custom settings and installed applications.
"How would this fix my YouTube app?"
Well, along with the list above…
This process also deletes stubborn glitches and bugs from your TV.
And if they're the ones stopping your YouTube from turning ON…
By the end of this fix, your app should already be working.
So, simply prepare your remote and…
Follow these steps to factory reset your Insignia TV:
Tap Home on your controller.
Select Settings.
Head to the Device & Software tile on your screen.
Scroll down and click Reset to Factory Defaults.
Choose Reset to confirm.
After doing so, simply set up your Insignia TV again. And launch your YouTube app.