Imagine, you've been waiting for your favorite show's latest episode.
When the time comes, you turn on your Roku TV but…
Your Spectrum app isn't working?
What are you going to do?
Don't worry.
It's easy to fix a Spectrum app that's not working on Roku.
I can help you.
But first…
Continue reading to know:
A step-by-step guide on how to hard reset your Roku TV.
The most common reasons why the Spectrum app isn't working.
7 simple methods to fix the Spectrum app not working on your Roku TV.
And so much more…
Why is the Spectrum app not working on Roku?
Your Spectrum app isn't working because of network or account issues. It's also possible that your Spectrum app is missing an update. Aside from that, software issues and bugs can also stop Spectrum from working.
---
Spectrum app not working on Roku: 7 fixes
---
#1: Check your internet speed
Your Spectrum app needs a proper internet connection to work.
If you're having a hard time accessing the app, you may be experiencing some network issues.
First, make sure that your Roku TV is connected to a network.
You can use an ethernet cable to directly link your smart TV from the router.
But aside from that, you can also connect your Roku TV to the internet wirelessly.
How?
It's pretty simple:
Turn on your Roku TV.
Using the remote, go to the Settings menu.
Open the Network tab.
Select Wireless and choose to Set up WiFi connection.
Find your home Wi-Fi from the list of available networks.
Enter your network password as necessary.
If your device is already connected to a network, perform a quick speed test.
Generally, your Roku TV would need an average speed of 40 to 50 Mbps to work smoothly.
However, the Spectrum app would require more to stream videos seamlessly.
Are you experiencing slow and intermittent connections?
Try to reset your router to refresh your internet.
To do this, simply unplug your router.
Then, wait for 1 to 2 minutes before plugging it back in.
Check if an increase in internet speed fixes your Spectrum app.
If it doesn't, you can try to…
#2: Update your account information
When logging on to your Spectrum app, you'd need to provide your account information.
If there comes a time that your login is denied, you're likely:
Dealing with a hacked profile.
Providing the wrong username or password.
Accessing an account with an expired subscription.
Can't get access to your profile even with the right details?
Unfortunately, your account has been breached.
So, what do you do?
You must update your information immediately.
Here's how:
At the Spectrum login page, click on the Forgot Password option.
Allow the app to send a verification code to your listed email address.
Proceed to update your password for the Spectrum app.
Log back into your Spectrum account using your new password.
Warning: Can't send a verification code to your email in the first place? Contact Spectrum customer support ASAP. This means that your account was successfully breached and hacked.
This needs immediate attention as this is extremely dangerous. The hackers may have gained access to sensitive information on your account.
#3: Renew your Spectrum app subscription
On the other side of the spectrum…
Another reason why you can't access your account is your subscription has expired.
First of all, the app provides its users with access to a variety of TV channels.

Some of which aren't available on regular TV subscriptions.
Currently, Spectrum has 3 steaming plans. These are the:
Spectrum TV Choice.
Spectrum TV Stream.
Spectrum TV Essentials.
Normally, these subscription plans run for 12 months.
And if you forget to renew your subscription plan before that, you'd be restricted.
With that, you won't be able to access your account.
Therefore, the app won't work on your Roku unless you subscribe to a Spectrum plan again.
#4: Make sure your Spectrum app is up to date
Does it seem that there's no problem with your internet connection or account?
Then, it's time to take a closer look at your Spectrum app.
In some cases, 1 of the reasons why an app won't work is…
It's missing an important update.
With that, you might be left with a question…
How do you update your Spectrum app on your Roku TV?
Step 1: Identify your Roku TV model
The Spectrum app has been updated regularly with the latest Roku operating system.
Because of this, older Roku TV devices are no longer compatible with the latest Spectrum app.
So first, you need to know your device's model number.
You can find your TV's model number using its system information.
Press the Home button.
Go to the Settings menu.
Open the System tab.
Select the Software Update option.
Choose Check Now, and it'll display your device's details.
Recommended read: Can You Use Roku TV On Older TV? 7 Easy Steps
Step 2: Check if your device model supports the latest Spectrum app
You can find the list of unsupported devices on Spectrum's website.
Step 3: Update your Spectrum app
Follow the same steps above to search if an update is available. Simply follow the prompts to complete the process.
#5: Reboot your Roku TV
Sometimes when the Spectrum app doesn't work, it's only because of a minor bug on your Roku TV.
So before you do anything drastic, first try to reboot your Roku TV.
How?
Simply unplug your device.
Then, wait for a couple of minutes before plugging it back.
After the quick reboot, power the TV and check if the Spectrum app is working properly.
#6: Update your Roku TV's software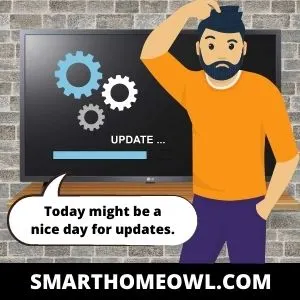 When your Smart TV is missing an update, it won't be able to perform some of its functions.
Therefore, your Spectrum app may not work if your Roku TV lacks a software update.
But don't worry.
You can easily access the software update on your device.
But, this is just as long as you're connected to the internet. So:
Go to the Home menu.
Open the Settings page.
Select the System tab and choose the System Update.
Manually check for updates.
If an update is available, proceed to install the update on your device.
However, the process would be different if your TV isn't connected to a network.
You need to:
Head to Roku TV's software update page on your computer.
Input your device information.
Download the software on a USB.
Insert the USB into your Roku TV.
Open the Settings tab and go to the System update page.
Highlight the I can't connect option to validate the manual software update.
Go back to the website and copy the provided 12-digit code and 6-digit code.
Input the codes in your Roku TV to finish the setup.
Once your device recognizes that external file, it'll initiate the firmware update.
Note: If a prompt says that "Contents of the file are invalid," this means your TV already has the latest software.
Need more information? Watch this video:
#7: Perform a hard reset
Problems in your Roku TV can cause your Spectrum app to stop working altogether.
However, the solution depends primarily on the severity of the problem.
If you're experiencing a minor bug or a glitch, a quick reboot can deal with that.
However, if it's something more, a hard reset may be necessary.
What's that?
It's a process that rids your device of all information and memory.
It also deletes all user preferences and settings.
The purpose of a hard reset is to revert the device to its factory state.
Hopefully, it'll fix possible software and firmware problems on your Roku TV.
So, how do you hard reset your TV?
You have 2 options. First, here's how to reset your device using the remote control:
Press the Home icon on your Roku remote.
Open the Settings menu and go to the System tab.
Search for Advanced System Settings.
Select the Factory reset option.
Follow the prompt that will guide you to factory reset your Roku TV.
If, for some reason, you don't have your remote on hand, you access your device's physical reset button.
The placement of the reset button differs from one model to another.
However, you can typically find it at the back or the bottom of your TV.
If your device features a pinhole-style reset key, access it using a paper clip. Here's how to do it properly:
Locate your device's reset button.
Press and hold it for 10 to 15 seconds.
This will initiate the TV to factory reset.
When the factory reset is successful, the TV's indicator light will blink rapidly.
After that, you can turn your Roku TV back on.
Complete the device setup just like you did when you first got it.
Then, re-install the Spectrum app and see if it works.
Note: If this step still doesn't fix the device issue, contact Spectrum and Roku support for help.