An Apple TV is an excellent choice for a streaming box.
But it's not the most budget-friendly option.
So naturally, you want to know how long it lasts…
And make sure it works until the very last day.
Well, you've come to the right place…
Continue reading to find out:
5 surprising facts about an Apple TV's lifespan.
Top secret hacks to boost your Apple TV's health.
Must-know truth about how long an Apple TV lasts.
Valuable tips in deciding if it's time to replace your Apple TV.
And this is just the beginning…
How long do Apple TVs last?
Apple TVs last about 4 to 7 years. However, their exact lifespan depends on how they're used. That said, optimized use doesn't accelerate wear and tear. Meanwhile, resource-intensive activities such as continuous 4K streaming shorten their lives. But, new models last longer than older models.
---
Apple TV lifespan – 5 surprising facts
---
#1: Why Apple products last so long
Apple is one of the best tech companies in the world.
They've produced a lot of popular electronic devices, such as:
iPad.
iWatch.
iPhone.
MacBook.
And, of course, they gave birth to the famed Apple TV.
That said, there's a valid reason why these Apple products rose to popularity.
Well, aside from their aesthetic, which gives a luxurious vibe…
These Apple devices gained support because of their longevity.
In fact, older MacBooks remain the talk of the town when considering laptop options.
Moreover, some people wait out the release dates of new Apple devices. Not to check them out, but to buy older models at a lower price.
That just shows how reliable they are regarding performance and durability.
You could even consider them future-proof. That's because you're guaranteed these devices work after years of use.
So, what's the secret to Apple products' long life?
Well, Apple carefully designs its devices to be durable and long-lasting.
And for that to happen, Apple uses only the best technology on high-quality materials. Plus, Apple's firmware is optimized for each device.
All in all, Apple gadgets' components work perfectly together like a well-oiled machine.
As a result, Apple products are some of the longest-lasting options on the market.
That's why it's no wonder Apple TVs last for about 4-7 years. And some people find they're worth every dollar.
#2: Apple TV technology throughout the years
Now that I've talked about why Apple products have such long lifespans…
It's time you hear more about the Apple TV itself.
As I've mentioned, Apple TVs last about 4 to 7 years.
But there's still 1 thing you should know:
You can only expect that lifespan for recent Apple models, such as:
Why?
It's because the Apple TV technology keeps improving with each new release. Which increases longevity.
But, the extra lifespan is actually just a by-product of better technology. Since its original purpose is to "power up" the Apple TV.
And by doing so, the Apple TV can support more features, like:
It's even shocking that the Apple TV 4K is capable of gaming. Considering that Apple TVs are initially meant for streaming Internet content.
Now, in contrast, you'll notice that older models (Apple TV 2nd gen) only offer standard features like:
Note that these features don't need powerful processors to work. Because even a mobile phone could handle those tasks.
And as a result, these older models last only for about 2-3 years.
Interesting fact: The latest software doesn't support older Apple TVs anymore. Simply because the outdated TVs can't keep up.
That said, better Apple TV technology paved the way for recent Apple TVs' longevity.
Now, if you want to know more about Apple TV's history….
Here's an informative yet fun animation video to watch:
For further reading: Can Alexa Control Apple TV? DIY How-To Guide
#3: Optimizing Apple TV usage
As I've already said, Apple TVs are estimated to last about 4 to 7 years.
And, of course, it's desirable to be there on the upper end. Or even more than what's expected.
So now, the question is:
How do you achieve that longevity?
Well, the key is optimizing your Apple TV's usage.
And what I mean by that is applying good practices all the while avoiding bad ones.
So, here are 3 proven tips to help extend the lifespan of your Apple TV:
#1: void using it for long hours of resource-intensive activities
These are activities that take a heavy toll on your Apple TV. This includes:
And while your Apple TV's powerful enough to let you do them…
Here's the thing:
These tasks push your device's components to work consistently at a high level. So if you do that, it'll affect your Apple TV's lifespan.
It's a lot like human bodies, actually.
How?
You can work hard but can't sustain the same intensity every day. So you rest, or you might be unintentionally taking a few years away from your life.
And so, follow these guidelines when doing resource-intensive activities on your Apple TV:
Time device usage for 2-3 hours only.
Turn off Apple TV after the timer rings.
Let it rest for at least 30 minutes.
#2: Make sure to keep your Apple TV clean and dust-free
Regularly cleaning your Apple TV can help prevent the device from overheating.
You see, it's normal for your Apple TV to become warm when it's in use.
But, when it becomes too hot to touch, that's a sign it's overheated.
And when that happens, you'll experience temporary issues, such as:
Lag issues.
Unintentional shutdown.
Pixelated picture quality.
Blue dots across the TV screen.
Those eventually lead to permanent damage. Which would be the end for your Apple TV.
So, follow these easy steps to clean your device:
Unplug the power cord and other cables.
Wipe everything using a soft dry cloth.
Warning: Don't get moisture on your Apple TV. Doing may cause electrical damage to the latter. And, you'll risk getting electrically shocked.
#3: Ensure you regularly update your Apple TV software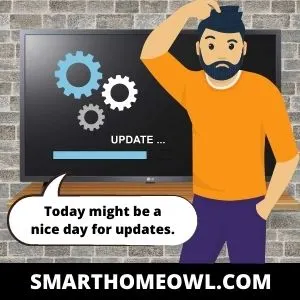 Updating to the latest firmware guarantees that your Apple TV runs smoothly.
Plus, it'll also prevent having problems down the line.
And so, here's how to update your Apple TV 4K or HD.
Go to Settings > System > Software Updates.
Press Update Software.
Download and install the update if it's available.
Wait for the process to finish.
Note: For Apple TV 3rd gen, you'll see General instead of System.
Following the tips can help keep your Apple TV running like new for years to come.
#4: Apple TV warranty services
Now, I've talked about how to ensure your Apple TV lasts a long time.
But what do you do if the latter rests in peace before its time?
It's simple.
You try to avail a warranty.
What's that?
Basically, it's what Apple provides as a safety net in case your Apple TV has unexpected problems.
Now, every Apple TV comes with a 1-year warranty.
But here's the thing:
It only covers hardware defects and software bugs. But not the following issues:
Water damage.
Physical damage.
Simply put, you can only avail of Apple TV warranty services for 1 year if the problem isn't caused by accident.
So, you can contact Apple for support if you have a problem with your Apple TV.
But before you do that, here are the things you need to prepare:
Apple ID.
Official receipt.
The Apple TV packaging.
Afterward, Apple will troubleshoot the issue. And, if necessary, repair or replace your Apple TV.
#5: AppleCare+
I've mentioned above that Apple's warranty is only available for 1 year. And it doesn't cover accidental damage.
You could say that it's a good deal…
But there's something even better than that.
Want to know what that is?
Allow me to introduce AppleCare+.
Simply put, it's Apple's extended warranty service. And it covers your Apple TV for 3 more years from the date of purchase.
That said, it doesn't add to your limited 1-year warranty to make it a total of 4 years.
But the great news is:
Unlike the 1-year warranty, AppleCare+ can cover accidental damage.
Note: You have to pay $15 + tax for each incident (max 2 every 12 months). And this is different from the upfront cost of $29.
Now, that's a great way to have some peace of mind. After all, life can be totally unexpected.
That's why I recommend you pay to unlock AppleCare+ services.
How do I know if my Apple TV needs a replacement?
You'll know if your Apple TV needs a replacement if you've tried at-home solutions. That's when you're still experiencing persistent issues with any of the following:
It's not turning on.
The video quality is poor.
The screen's frozen or not responding.
There's no sound coming from the speakers.
The home screen's showing an error message.
Basically, if you notice that your Apple TV isn't working as well as it used to. Then, it's time you replace it.
Just remember that before you take big money out of your pocket…
Apple offers a 1-year warranty on all Apple TVs. Plus, you could avail AppleCare+ services for 3 years for only 29$.
With that, you can get a free or low-cost (for accidents) replacement if it's within that time frame.
Or, if there's a new Apple TV which offers more features and better performance…
You could replace your current one to get your hands on all of its latest technology.
But, if your Apple TV's still working well and you're happy with it, there's no need to replace it.